Welcome to the exciting world of firefighting! Becoming a firefighter is not just a job, but a calling to serve and protect your community. In this blog post, we'll explore what you can expect during your training and your first year on the job as a firefighter.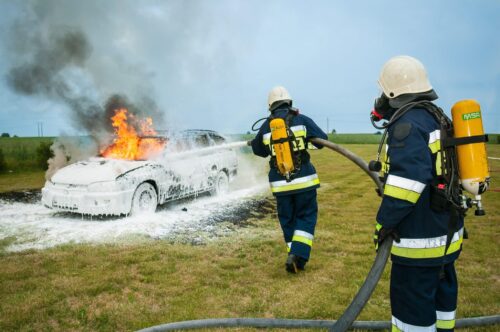 Your First Year As A Firefighter
Firefighter Training: A Grueling yet Rewarding Journey
Firefighter training is physically and mentally demanding. Embrace the challenges and push yourself beyond your limits. From learning firefighting techniques to practicing life-saving skills, every step of the training prepares you for the real-life scenarios you'll face.
Building Solid Foundations: Teamwork and Camaraderie
Firefighting is a team effort. During your training, you'll forge lifelong bonds with your fellow trainees. Lean on each other, support one another, and work as a cohesive unit. Trust and camaraderie are essential when lives are on the line.
Embracing the Basics: Firefighting Tactics and Equipment
Your training will cover a range of essential skills, such as fire behavior, search and rescue techniques, and handling firefighting equipment. Pay close attention to detail and master the fundamentals. These skills will be the building blocks of your firefighting career.
Physical Fitness: The Key to Success
Firefighting is physically demanding, requiring strength, endurance, and agility. Regular physical training is vital to stay fit for duty. Incorporate cardiovascular exercises, strength training, and flexibility exercises into your routine to maintain peak performance.
Mental Resilience: Staying Strong in Challenging Situations
Firefighting is not only physically demanding but also mentally challenging. You'll face high-stress situations, witness tragedy, and make split-second decisions. Develop mental resilience through stress management techniques, self-care, and seeking support when needed.
Continuous Learning: Lifelong Commitment to Growth
Your learning doesn't end with training. Stay updated with the latest firefighting techniques, advancements in equipment, and industry best practices. Attend workshops, seminars, and engage in ongoing professional development opportunities to enhance your skills and knowledge.
Conclusion:
Embarking on a career as a firefighter is an incredible journey filled with challenges, rewards, and the opportunity to make a difference in your community. Embrace the training, nurture teamwork, and strive for continuous improvement. Remember, as a firefighter, you are part of a proud and noble profession dedicated to safeguarding lives and property. Stay focused, stay dedicated, and always serve with integrity.